WordPress Website Security
Why you need to "Harden" your WordPress Website
Let me give you a little background on why you need to be concerned with your

WordPress Website Security

. Here's what happened to one of our sites. It was HACKED big time and I began to research what I could do to protect our members sites. After many long hours of due diligence researching articles, plug-ins and all the info I could get my hands on from security blogs, I put together the WordPress Hardening Pack.
Next I tested all WordPress hardening steps on a live site to make sure everything worked flawlessly! Not an easy task I must say. I was locked out of my site twice then I had to learn how to fix code and undo that fiasco. So the first thing you need to do is completely back up all your files & folders for your site. Here's why, I locked out a complete database that shut down a very important part of our members site! $100.00 later on a consult to figure out that the security was to tight for the program to run, go figure! Yes you can pay a lot of money for this service, last check was up to at least $300.00. To fix a hacked site is going to cost you more than money, its going to cost you:
Time (do you make money with your hacked WordPress Website that doesn't work?)
Rebuild you site (can you rebuild yourself?)
Future sales while your site is down (maybe the hacker's wanted to siphon off all your paid traffic!)
I know its the scary side of our business, but these steps for WordPress Website Security will give you peace of mind.
Unfortunately the odds are against you. Better to protect yourself sooner than after being hacked.
There Is A Solution
So Keep Reading

1. You can either do this on your own with the "Do It Yourself" Videos

OR
2. Pay lots of money after your site has been hacked to get
you back up and running

Included in the "Do It Yourself" WordPress Hardening Pack:
>

Instructional step by step videos on how to harden your WordPress website
>

How to use a backup wizard in your C-Panel to back up your WordPress site
(important to do on regular basis!)
>

All plug-ins needed to assist in securing your WordPress site
>

How to change your user name "Admin" to log into your WordPress Site
>

How to change your file and folder permissions
>

How to generate and change a new set of "Secret Keys"
>

How to change you WordPress prefix table
>

Secure Your "wp_config php.file"
>

Remove WordPress version from header
>

Show you how to check if you have a "SSL" Network
>

Protect your htaccess. file
>

How to handle "Spam" in your comment area (Eliminate them!)
>

Monitor and warn of potential malicious code changes in your WordPress Site (Hackers are always trying new ways!)
>

Installing Specific WordPress Security Plugins To Maximixze The Overall Security Of Your WordPress Website.
Bonus
>> How to set up Google Webmaster Tools and Google Analytics.
I make it real easy <<
>

Installing Google Analytics will do 2 things for you.
>

show a spike in traffic that is uncommon (

red flag!

). If this happens Google could pull your site down or you could lose your page rank.
>

The benefit of Google tracking your website analytics! (great thing!)

"WordPress Hardening Pack" Below




Don't Be An Easy Target!
A Video Step By Step Series For Your Protection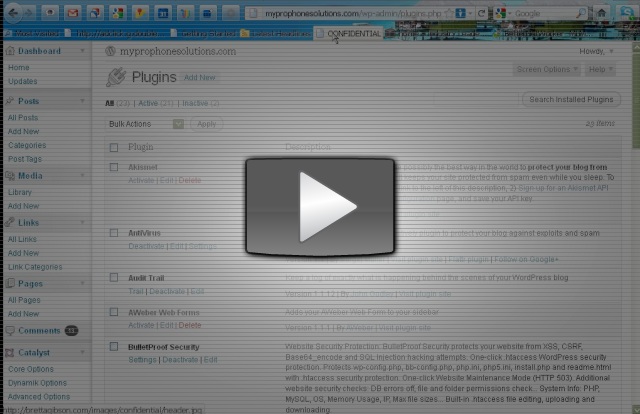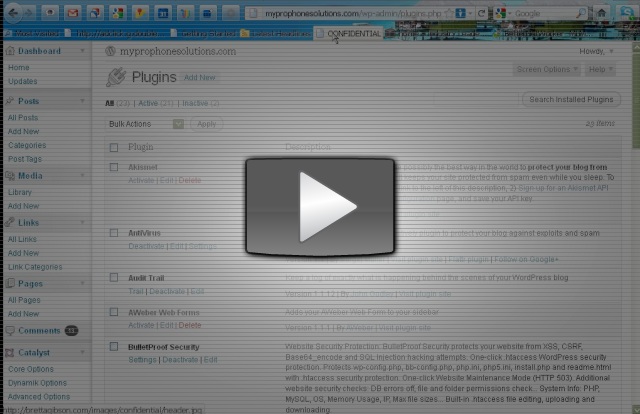 READ THIS

Important!!!

DISCLAIMER

Important!!!
No one can claim 100% security protection! (to many variables). In other words, I am not guaranteeing your site will be hack proof! Hackers are always going to look for new ways to take advantage of WordPress sites. We simply are just adding more layers of security.
A good way to sum this up and quoted many times: "you don't have to be faster than the bear, just faster than the slowest person!"
Don't be easy bait for the hackers they will always find the weakest link and take advantage of the opportunity. I have invested a lot of time and research to provide the information outlined in the steps above. I have had hackers take down our merchant account for 4 days over a busy weekend when I owned a Brick & Mortar store and lost thousands of dollars in business plus the cost ($80 dollars an hour) to get back online . It truly is a nightmare! You can add this extra security (peace of mind) for a minimal cost.
Don't be an easy target!

"Get Protected"
"WordPress Hardening Pack"
Buy Now to stay protected!


Video Step By Step Series




This security info will be updated as needed! This is an ongoing effort to always provide you with the latest in security tips we can provide. Just be diligent with your own web site's security awareness. Its up to you to stay safe.
Thanks
Brett Gibson